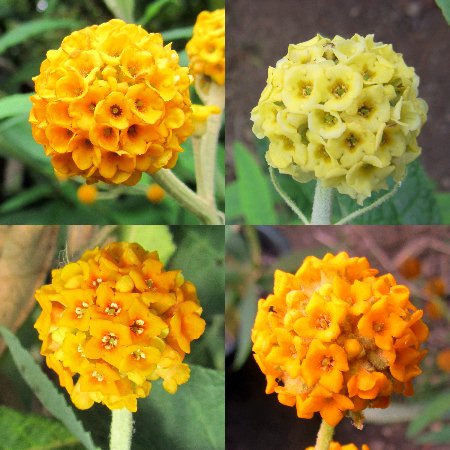 B. globosa female (top left), the male HCM98017 (top right),
un-named B. globosa male, (bottom left) and male B. araucana (bottom right).

A supersize version is available here
Determining the Gender of Buddleja globosa or araucana
As mentioned above both these species are dioecious and it is often hard to determine the sex of a plant. In some species it can require specific staining of the anthers or ovaries and microscopic examination to look for viable pollen or ovules to determine whether a plant is male (described as staminate), or female (pistilate). However, with Buddleja it may be possible for the gardener to work out the sex of a plant. I have observed that the males are flowering up to two weeks before the female, although I am working with a small sample of one. Possibly this has evolved to ensure that the pollen is available to the females immediately upon opening. Assuming the reasonable proximity (within a bee's range) of a suitable source of pollen female plants will set seed. Identifying a male plant may be possible using only a hand lens.
In the photos (left) the female flower does not appear to have stamens, although these are present: they are withered and brown with no apparent pollen being shed, somewhat hidden by the corolla tube hairs. HCM98017 has pale yellow bi-lobed stamens much the same colour as the corolla and with visible pollen. The un-named male plant conveniently has bright white stamens that are much more visible. The cultivated B. araucana is also male but the stamens are orange and difficult to see, not only due to the colour being the same as the corolla but also because the corolla tube has more hairs within. All have a similar shiny green stigma that is redundant in the males.
These features should be easier to see on the Supersized Image.